[FR] Le ministère turc de la Défense a déclaré jeudi que ses avions de combat visaient les positions du Parti des travailleurs du Kurdistan (PKK) dans la région du Kurdistan. Des bombardement ont eu lieu ce jeudi 13 décembre vers 21h30 heure locale, dans le district de Makhmur. Des avions de combats turcs auraient touché les villages de Shlaw et Tal Azar.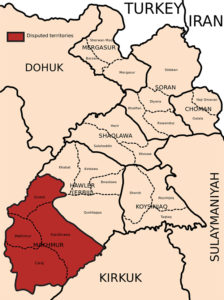 La Turquie effectue souvent des frappes aériennes à la frontière de la région du Kurdistan contre des prétendues positions du PKK. L'armée turque a plusieurs fois franchi la frontière avec le Bashur (Kurdistan irakien) depuis le début de cette année.
L'attaque d'aujourd'hui a tué 3 membres d'unités d'autodéfense et blessé un quatrième.
[EN] Turkey's Ministry of Defense said on Thursday that its warplanes targeted positions of the PKK in the Kurdistan region. The bombardment took place this Thursday, 13 December, around 21:30 local time, in the district of Makhmur. Turkish fighter planes reportedly hit the villages of Shlaw and Tal Azar.
Today's attack killed 3 members of self-defense units and injured a fourth one.
Turkey often carries out air strikes on the Kurdistan region's border against alleged PKK positions. The Turkish army has crossed the border with Bashur (Iraqi Kurdistan) several times since the beginning of this year.