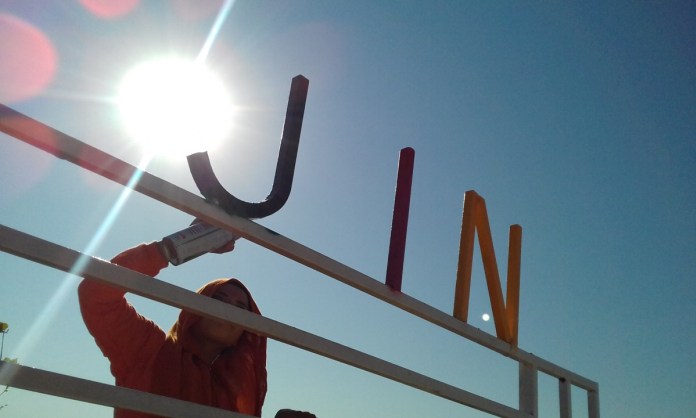 [EN]
After 2 years of works, the women's village Jinwar will open on November 25, International Day Against Violence Against Women.
The women have built 30 houses for women and families from persons martyred but also widows and women without any family.
Read the article on ANF
Video below (in Kurdish and German)
[FR]
Après deux ans de travaux, le village « JINWAR » ouvrira ses portes le 25 novembre, à l'occasion de la Journée mondiale de lutte contre les violences faites aux femmes.
Les femmes ont construit au total 30 maisons, une école ainsi qu'une clinique.
Lisez l'article sur Kurdistan au Feminin
Video ci-dessous (en kurde et en allemand)
[DE]
Das Frauendorf JINWAR in Nordsyrien wird nach zweijährigem Aufbau am internationalen Tag gegen Gewalt an Frauen offiziell eröffnet.
HIER den vollständigen Artikel auf ANF
Video aus dem Frauendorf JINWAR in Rojava

Video aus dem Frauendorf JINWAR in RojavaDas Frauendorf Jinwar in Rojava ist eine Gemeinschaft von Frauen, die an einer neuen Welt jenseits von Kapitalismus und Unterdrückung arbeiten, indem sie die alten gewaltätigen Strukturen überwinden. Es ist auch ein Ort, in dem die Frauen die Gewalt des Krieges gemeinsam verarbeiten und die Frauenrevolution weiter vorantreiben.Frauen steht auf für Rojava und Afrin, denn diese Revolution ist auch unsere Revolution!

Posted by Revolutionärer Aufbau Winterthur on Wednesday, November 21, 2018