[EN] Today four years ago, 7th march 2015, Ivana Hoffmann fell in the war against Daesh, as Avaşin Tekoşin Güneş and member of the MLKP. She was the first internationalist female fighter to give her life in the war against Daesh and for the construction of democratic confederalism in Rojava. She died defending a Christian village against the murderous invasions of Daesh.
As a woman of German-Togolese descent and member of the LGBT community, her political struggle embraced many dimensions and from an early age on she stood up against racism and sexism. Growing up in Duisburg which counts a large Kurdish community, she became early aware of the Kurdish liberation struggle and decided to support the struggle by joining the armed forces there, in the spirit of internationalist solidarity.
In our hearts we keep her memory and struggle alive.
Şehid Namirin! Martyrs never die!
[DE] Heute vor vier Jahren, am 7. März 2015, ist Ivana Hoffmann, als Avaşin Tekoşin Güneş und Mitglied der MLKP im Kampf gegen den IS gefallen. Sie war die erste internationalistische Kämpferin, die in diesem Kampf gegen Daesh und für demokratischen Konföderalismus in Rojava ihr Leben gelassen hat. Sie starb bei der Verteidigung eines christlichen Dorfes gegen die mörderischen Invasionen Daeshs.
Als deutsch-togolesische Frau und Mitglied der LGBT-Gemeinschaft hatte Ivana ein vielseitiges politisches Engagement, und setzte sich seit ihrer Jugend gegen Rassismus und Sexismus ein. In ihrer Heimatstadt Duisburg knüpfte sie frühzeitig Kontakte mit der kurdischen Gemeinschaft dort und entwickelte ein Bewußtsein für den kurdischen Befreiungskampf. 2014 beschloss sie diesen Befreiungskampf aktiv zu unterstützen und, im Sinne der internationalen Solidarität, sich den Kampfeinheiten in Rojava anzuschließen.
In unseren Herzen gedenken wir ihrer und halten ihren Kampf am Leben.
Şehid Namirin! MärtyrerInnen sind unsterblich!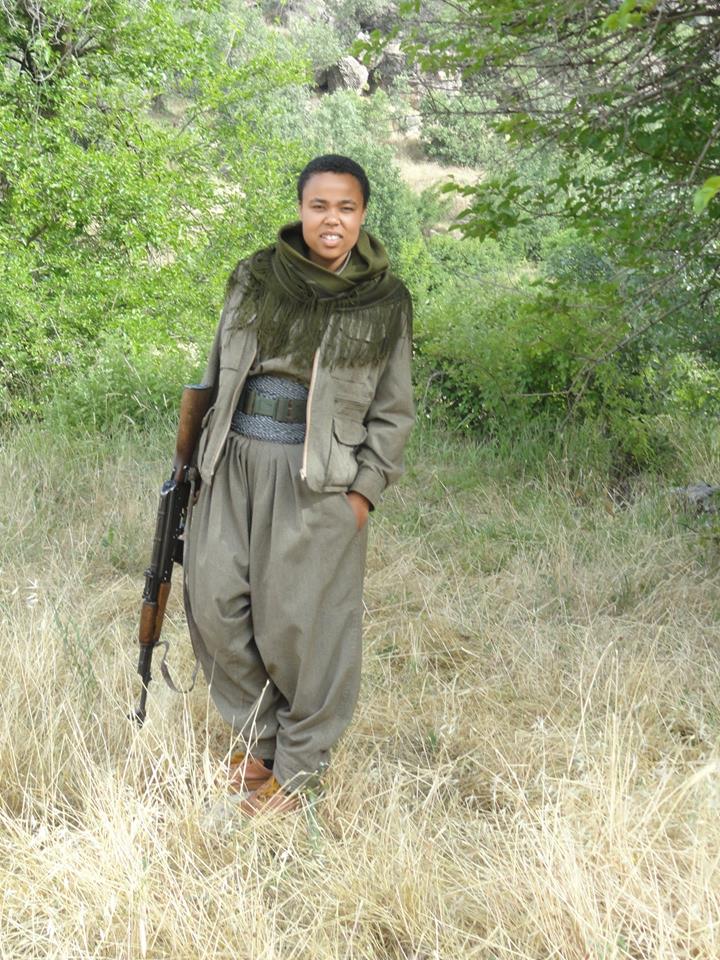 [FR] Aujourd'hui, il y a quatre ans, le 7 mars 2015, Ivana Hoffmann est tombée dans le combat contre Daesh, en tant que Avaşin Tekoşin Güneş et membre du MLKP. Elle était la première femme internationaliste à laisser sa vie dans la guerre contre Daesh et pour la construction du confédéralisme démocratique au Rojava. Elle est morte au combat pour la défense d'un village chrétien contre les invasions meurtrières de Daesh.
En tant que femme germano-togolaise et membre de la communauté LGBT, elle s'est engagée dès le plus jeune âge contre le racisme et le sexisme. A travers ses contacts avec la communauté kurde dans sa ville natale de Duisburg, elle a été sensibilisée à la lutte de libération du peuple kurde, puis, en 2014, elle a décidé d'apporter son soutien à cette lutte en rejoignant les forces armées au Rojava, dans un esprit de solidarité internationaliste.
Nous portons sa mémoire et ses combats dans nos cœurs et continuons la lutte !
Şehid Namirin! Les martyres sont immortelles!