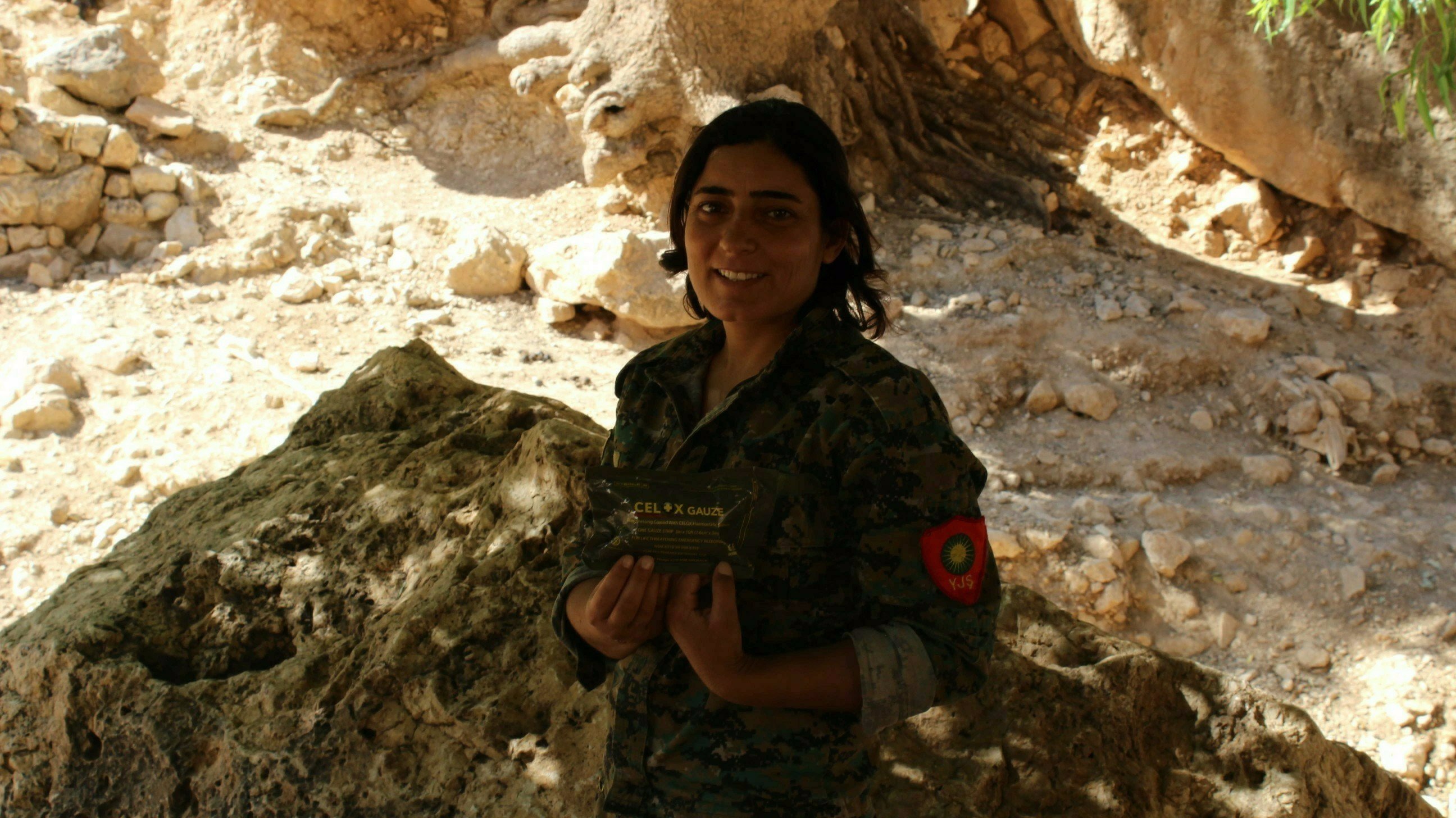 Comrade Hêza
[EN]
We received this picture from our comrade and YJS-fighter Hêza proudly showing her Celox plaster to the camera.  Celox keeps arriving in Shengal and Rojava in order to supply the female fighting units with this life-saving medical material.
Earlier this year, we shared the testimony of Hêza in which she tells her story, how she escaped Daesh and joined the Kurdish armed forces. If you missed it, you can still watch it here:
She also explains the importance of her enrollment within the Shengal Women's Units in this article from the daily mail :
http://www.dailymail.co.uk/news/article-4713844/Yazidi-sex-slave-kidnapped-ISIS-vows-revenge.html
[FR]
Nous avons reçu une photo de notre camarade Hêza, combattante au sein des unités YJS, qui tient en main son pansement hémostatique Celox. Ces pansements qui peuvent sauver des vies continuent donc d'arriver au Rojava et au Shengal pour équiper les unités de femmes combattantes.
Pour rappel, nous avions partagé le témoignage émouvant de Hêza il y a quelques mois, dans lequel elle décrit sa fuite de Daesh pour rejoindre les forces armées kurdes. Le Daily Mail avait également écrit un article sur son histoire. Vous trouvez les liens vers la video et l'article ci-dessus.
[DE]
Wir haben ein Photo von Hevala Hêza erhalten, eine Kämpferin der Frauenkampfeinheiten des Shengal (YJS), in dem sie stolz ihren Celox Verband in die Kamera hält. Celox erreicht weiterhin den Rojava und Shengal, wo diese lebensrettenden Verbände an die verschiedenen Frauenkampfeinheiten verteilt werden.
Wir hatten vor ein paar Monaten ein Video geteilt, in dem Hêza erzählt, wie sie Daesh entkommen ist, und sich den kurdischen Kampfeinheiten angeschlossen hat. Die Zeitung Daily Mail hat ebenfalls einen Artikel über sie geschrieben. Ihr findet die Links zu Video und Artikel in der englischen Version dieses Artikels.