[Ci-dessous texte en français sur la projection à Bruxelles]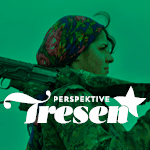 Revolutionäre Perspektive Berlin wird den Film "We need to take Guns" zeigen, mit Gästen aus Stuttgart und der Schweiz, die an der Shengal.xyz-Kampagne beteiligt sind :
Dienstag | 11. Dezember 2018 | 19 Uhr | Bandito Rosso | Lottumstraße 10a
"Der Film »We need to take guns« handelt vom Internationalen Freiheitsbataillon (IFB), welches 2015 gegründet wurde, um die Revolution in Rojava bewaffnet zu unterstützen. Der Dokumentarfilm entstand 2017 und handelt von den das IFB tragenden Organisationen BÖG, TKP ML/TİKKO, MLKP-Rojava und IRPGF. Es wurden Interviews mit anarchistischen, antifaschistischen und kommunistischen Internationalist*innen aus der ganzen Welt geführt über ihre Motivationen, revolutionären Internationalismus sowie Strategie und Taktik des in Rojava geführten Krieges und was wir daraus lernen. Aus dem Film geht hervor, wie sich Menschen unterschiedlicher linker Spektren zusammengefunden haben, um gemeinsam den revolutionären Prozess in Rojava zu verteidigen.
Wir zeigen den Film und haben Genoss*innen der Roten Hilfe International aus Stuttgart und der Schweiz eingeladen, die über ihre Unterstützung des kurdischen Freiheitskampfes und die Celox-Kampagne für Frauen* sprechen werden. Es wird Geld gesammelt, um die Frauen*einheiten in Rojava und Shengal durch die Finanzierung von blutstillenden Celox-Verbänden zu unterstützen. Es wird zudem eine neu anlaufende Kampagne »Defend the mountains – Gasmasken für die Guerilla« vorgestellt und auf die aktuelle Situation in Rojava eingegangen."
Bruxelles: Projection du film « We need to take Guns », vendredi 14 décembre 2018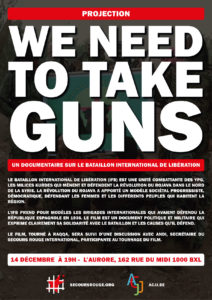 Le film "We need to take guns" est un documentaire tourné à Raqqa en 2017 dans différentes unités du Bataillon International de Libération (IFB). Des internationalistes anarchistes, antifascistes et communistes du monde entier y parlent de leurs motivations, leur internationalisme révolutionnaire, la stratégie et la tactique de la guerre menée au Rojava et ses enseignements.
Le Bataillon International de Libération (IFB) est une unité combattante des YPG fondé en 2015 pour soutenir la révolution armée dans la région. L'IFB prend pour modèles les Brigades Internationales qui avaient défendu la république espagnole en 1936. Le film est un document politique et militaire qui exprime clairement sa solidarité avec le bataillon et les causes qu'il défend.
La projection sera suivie d'une discussion avec Andi, secrétaire du Secours Rouge International, qui a participé au tournage du film.
Projection à 19h, le vendredi 14 décembre 2018
Maison commune "L'Aurore"
162 rue du Midi, 1000 Bruxelles
Trailer du film: https://youtu.be/JRcBHNPpE_Y